Commercial Carpet Cleaning
Leaves Your Carpet Clean, DRY & Ready to Use When We Leave – We Guarantee It!
Looking for commercial carpet cleaning in Kenosha or the surrounding area? Whether you're looking for a one-time cleaning or a tailored maintenance program for the carpet in your facility, we have the know-how and the products to make your commercial carpets look like-new!
Carpet is not only an expensive investment, but it also represents your company and reflects the projected image of your facility to your clients and customers. As a successful business, we know you want to keep it looking its best!
WHY THE DRY GUYS
When you choose The Dry Guys for your commercial carpet cleaning in Kenosha or the surrounding area, you're choosing the best option around! We pride ourselves in our workmanship and knowing that we are providing our clients a service beyond what our competitors can offer. Your facility is a reflection of your business and we want to help you ensure that your client's perceive a clean, fresh, and unblemished appearance. Contact The Dry Guys today about commercial carpet cleaning!
Our Maintenance Programs:
Are friendly to your budget
Have convenient scheduling
Eliminate downtime in your facility
Keep your carpet looking great year round
Use green, environmentally friendly products
Extend the life of your carpet
Conserve energy & resources
Improve indoor air quality & reduce allergens
Eliminate wet carpet concerns
Eliminate residual moisture
End the unpleasant after-cleaning odor
Include planning, implementation & monitoring, and traffic pattern analysis
Include upholstery maintenance options
The graphs above illustrate how unplanned cleanings lead to quicker deterioration of your carpet over a much shorter period of time compared to a carefully planned, ongoing maintenance schedule that is specific to your needs and your carpet.
The objective of our maintenance plans is not only to extend the life of the carpeting, but to keep it consistently clean all year round at a reasonable cost. By identifying the areas with the highest traffic (entrances, lobbies, elevator lobbies, break rooms, food service areas, etc), a plan can be created that focuses on where dirt is the heaviest. Key elements of maintenance are:
Prevention: Keeping the 85% of dirt that is dry and vacuumable out of the building through use of walk off mats.
Vacuuming & Spot Removal: Removing dirt before it has a chance to build up, and removing spots & spills as they occur rather than letting them sit to potentially become permanent stains.
Routine Overall Cleaning: The oily, greasy dirt that accounts for the other 15% of dirt must be removed through scheduled cleanings at a frequency that prevents the build up and spreading to other areas.
Click here to read case studies on facilities that have successfully maintained their carpeting with the HOST Dry Extraction System.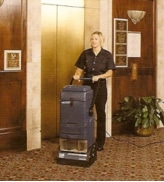 Our Own Maintenance Plan Clients
Many businesses in southeast Wisconsin and northeast Illinois are already keeping their facilities looking great by using our maintenance programs. From Milwaukee to Waukegan, we are servicing commercial buildings, funeral homes, senior living complexes, churches, museums, hospitals and more! If you would like to speak to any of our current clients and hear about their experiences with The Dry Guys, let us know. We'll be happy to put you in touch with someone on our reference list.