Grout Cleaning in Kenosha, WI
Expert Grout Cleaning in Kenosha
The Name To Know For Grout Cleaning in Kenosha
Need grout cleaning in Kenosha? The Dry Guys are here to help! There are many benefits to cleaning the grout on your tile floors in Kenosha. Here are just a few:
Improves the overall look and feel of your floor
Extends the life of your tile and grout
Eliminates mold and other dangerous fungi from surfaces
Gives the floor a brand new look
Maintains the resale value of your home
It is an affordable option as opposed to replacement
Call The Dry Guys are the pros to know when you need a grout cleaner in Kenosha. This is our area of expertise. Contact us and let us earn your business.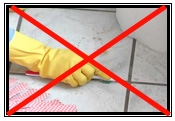 Get Off Your Hands & Knees!
(and save your toothbrush for your teeth!)
There is a much better way to keep your tile & grout looking like new, and all you have to pick up is the phone. "The Dry Guys" can clean and restore your hard surface floor – no toothbrushes required!
A mild alkaline solution is used first to loosen accumulated soil, grease, and contaminants.
The cleaning solution combined with agitation from a tile cleaning tool with rotary brushes removes the soil, grease & contaminants from the floor, and it's carried away through the vacuum port.
A sealer can be applied following the cleaning. It will protect the grout and help prevent it from absorbing the dirt, dust and grease that finds its way to your floor.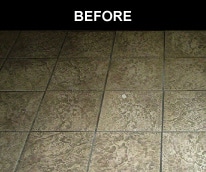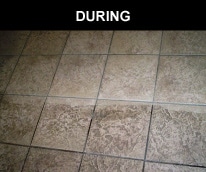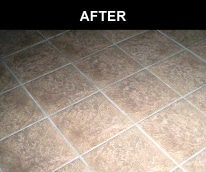 The end result was so great that the areas cleaned looked like they had
just been retiled

. The bathrooms were

noticeably brighter

and there were numerous comments made by the people who work in the building about

how wonderful

they looked.

- Neil Guttormsen