Join Us for our Annual Rug Lovers Appreciation Day
Are your Area Rugs Looking a Little Dingy? "the dry guys" can Help!
If the rugs in your Kenosha, Wisconsin home are looking rather worse for wear, don't even think about using a Rug Doctor. Improper rug cleaning can ruin your expensive area rug! Instead, bring it in to see us at our Annual Rug Lovers Appreciation Day.
We're holding a special event just for those in our community who have and love rugs. We use a special technique that puts a new spin on the old method of "rug beating" to get dust, dirt and debris out safely and without damaging your rug. A good dusting can take your favorite area rug from grungy to gorgeous. If you bring it in during our special event, we'll give it a thorough dusting for free! We'll also be sharing plenty of information about rugs and their care, so you can take some valuable tips home with you.
When: Saturday, September 13, from 10:00 Am to 3:00
Where: 7012 30th Avenue, Kenosha, WI 53142
RSVP: by September 5th by calling (262) 605-1290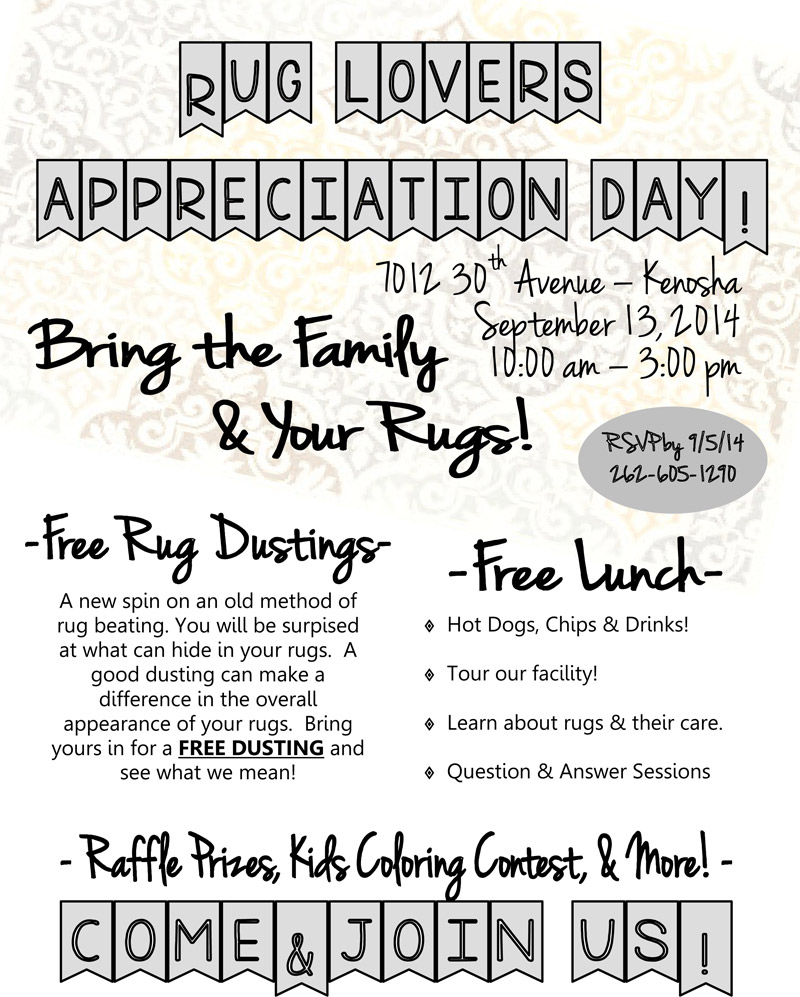 Don't have a rug that needs cleaning? Come see "the dry guys" anyway.
Take this chance to tour our facility and learn about our dry carpet cleaning system. There's even an open question and answer session planned so you can get advice straight from our experts on how to properly care for your rugs and carpets. We even cover emergency situations, such as what to do in case of flooding or mold – so this is the perfect opportunity to take some notes.
Don't forget the rest of the family – we have free lunch for all attendees, including hot dogs, chips and drinks! The kids can enter our coloring contest and we'll be raffling off plenty of great prizes throughout the day.
All of this and more awaits those who attend our Rug Lovers Appreciation Day on Saturday, September 13th.
RSVP by September 5th by calling (262) 605-1290 and show up for the event at 7012 30th Avenue in Kenosha.
We look forward to seeing a great community turn-out!